From August 25-27, NAPE/AFSCME delegates convened at the Cornhusker Marriott Hotel for our 26th Biennial Delegate Assembly.
The delegates, union members who were elected by their peers to represent them, discussed, debated, and adopted NAPE/AFSCME's 2023-2025 strategic plan, legislative platform, and amendments to our union's constitutional bylaws.
After the first business session, Elissa McBride, Secretary-Treasurer of AFSCME, gave an enlivening speech about NAPE/AFSCME's growth and perseverance. She thanked our leaders for their service to our members and commended our union activists for their dedication to strengthening our union.
Our Field Staff led delegates in a training session about how to effectively organize through one-on-one conversations. The training taught delegates how to effectively move their colleagues to union membership.
Nebraska State Senator Danielle Conrad addressed the delegates in a keynote speech where she talked about the importance of representing the working class in the state legislature and ensuring that Nebraska state workers' voices are heard.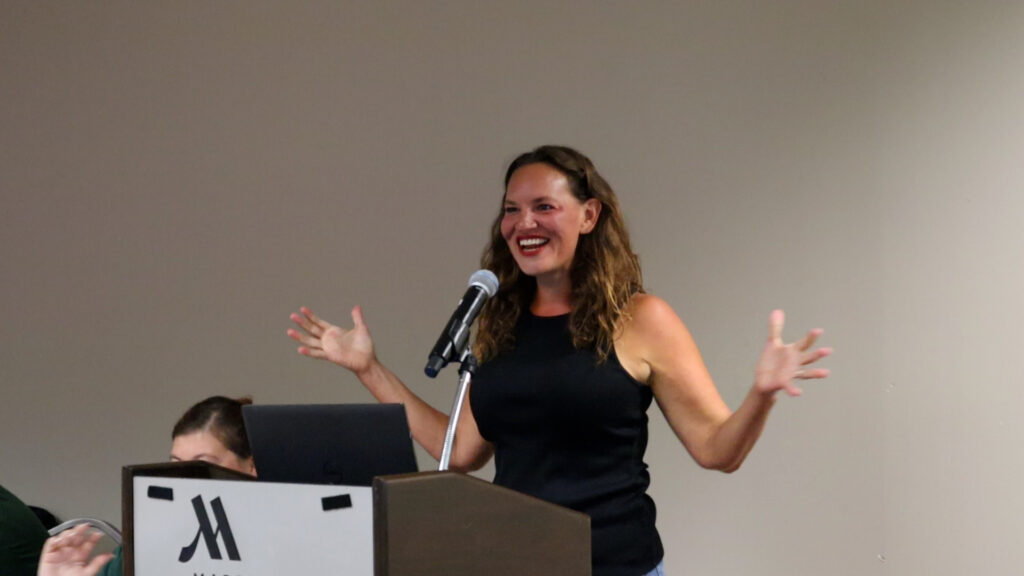 On Sunday, delegates engaged in a lively debate about amendments to our union's constitutional bylaws. They made a few substantive changes, including voting to maintain the membership dues rate of 1.25% of the base salary, while moving the minimum and maximum rates upwards. The minimum dues rate will move to $20/month and the maximum will move to $56/month beginning January 1, 2023. The overwhelming majority of members will be unaffected by the change.
Other changes to our bylaws will allow electronic nomination and voting for all NAPE/AFSCME elections. This change will reduce the costs of printing and mailing paper ballots, as well as increase participation by making voting more convenient for union members. Additionally, procedures for contract ratification during mid-term bargaining were codified in the bylaws.
NAPE/AFSCME Executive Director Justin Hubly gave his biennial report. During his speech, he reflected on the evolution of our union, and after turning an eye to the past, he looked toward the future by officially announcing the NAPE/AFSCME "3,000 Strong: United Together" campaign.
Later, NAPE/AFSCME member, Sue Martin, President/Secretary-Treasurer of the Nebraska State AFL-CIO addressed the delegates. Sue is a long-time advocate for all workers in Nebraska, and her speech reflected as much.
Nebraska State Senator Tony Vargas gave an earnest speech about his upbringing, his entrance into politics, and his campaign for Congress. Afterward, the delegates passed a motion for NAPE/AFSCME to endorse Senator Vargas in the upcoming Democratic primary.
Just before the close of business, delegates elected NAPE/AFSCME's Executive Committee for the next two-year term: President Melissa Haynes, Vice President Brian Koch, Secretary Ashlie Thompson, Treasurer Jay Jensen, and Sergeant-at-Arms Brandon Brown.
The next Delegate Assembly will be held in 2025.